Sigiriya – Dambulla – Polonaruwa – Anaradhapura
On Day 1, we pass paddy fields, pineapple and rubber plantations to the Sigiriya Lion Rock also called 8.Wonder of the world. Today it is said to be fit and climbing.
The former fortress of King Kashyapa in the 5th Century, is probably the most fantastic combination of nature and culture, you meet during this trip. You can expect an exciting and somewhat exhausting climb the Sigiriya Lion Rock.
The "Lion Rock" (so called because a huge lion statue guards the entrance to Fort) stands as a 150m high monolith in the landscape and offers a unique panoramic view over the beautiful landscape around. Not for nothing that King Kashyapa came here, could he look his enemy from here for miles …; on the plateau was once a fortress complete, from which still you can see the floor plans, as well a swimming pool and gardens. On the way up you pass the famous "Cloud Damsels" historical, erotic paintings.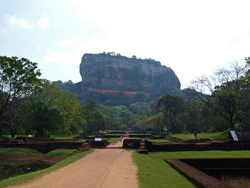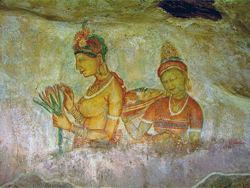 After successful return it is possible, to take a lunch break and a short rest to gather new strength before we go to the cave temples in Dambula.
Dambulla is a huge, isolated rock with an area of about 150m high with a circumference of 1.5 km! The famous cave temple located in this rock, goes back to the first century before Christ's. The caves (five totals) served as the king Walagamba refuge during his 14-year exile. When he returned to the throne, he built the greatest temple of the island. In the first cave there is an approximately 14m long stone-carved Buddha. Frescoes on the ceiling date from the 14th to18th Century. In the second (and largest) cavity are 150 life-size statues of the Buddhist religion and the Buddha himself. Again, ceiling frescoes found that describe the life of Buddha.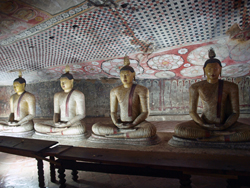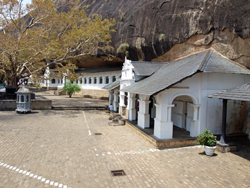 Overnight stay in Dambula or Sigiriya
On Day 2 it goes to Polonaruwa, the second ancient capital of Sri Lanka. During a walking tour you have the opportunity to explore the wealth of ruins (including the royal palace). Buddha statues and the reservoir of "Parakrama Samudraya" show impressively the former architecture.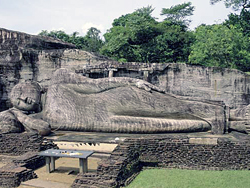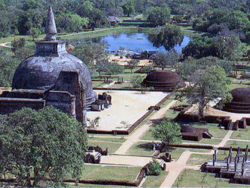 Übernachtung in Giritalle
Overnight stay in Giritalle
On Day 3, it goes back to your hotel via Anaradhapura
Anuradhapura was over a thousand years, the center of various Sinhala royal dynasties.
Nearby Anuradhapura is Mihintale, the cradle of Sinhala Theravada Buddhism. The historic Anuradhapura, which was established around 400 BC, is still a pilgrimage destination for Buddhists as well as a number of important archaeological excavation site.
The modern city of Anuradhapura is located a few miles away, because the continuity was interrupted after the departure of 993.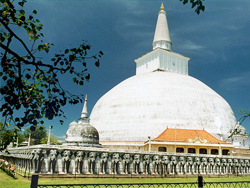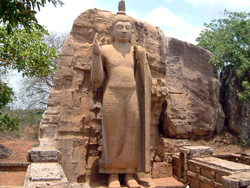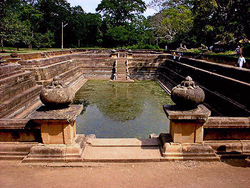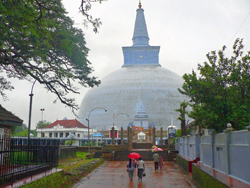 Are you interested in this tour? Then write to us now and receive your individual offer!