Sri Pada – Adams Peak
The surely most adventurous and strenuous kind to discover Sir Lanka and its people.
On Day 1 it goes by passing the Ella waterfall to the Adams Peak. The region is largely surrounded by wooded hills and no mountain is of comparable size nearby. The entire area is a nature reserve and home to many species of wild animals like elephants, leopards and many others.
Overnight stay in Whatsala Inn Hotel direct at the food of the mountain.
Around 3 am on the 2nd day you start the climb to the top of Adams Peak.
The climb takes about 2 ½ to 4 hours. The first sign of twilight and sunrise comes at 5.15 am and is usually between 5.30 am and 5.40 am.
Enjoy a fantastic spectacle at sunrise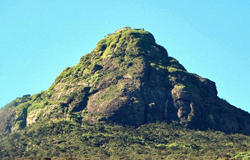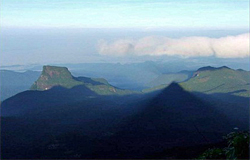 The mountain is a pilgrimage site for Buddhists, Hindus, Muslims and Christians.
The Summit is an inhabited monastery in which a 1.8-meter-long footprint is located ("Sri Pada"), who is revered by Buddhists as the footprint of the Buddha. Hindus see as the footprint of the Shiva Adipadham.
Muslims see it as the footprint of Adam, the Christians of the Apostle Thomas.
According to Buddhist-Sinhala Buddhist faith should be any good buddhist have climbed this mountain at least once in the life.
Pilgrims climb the 2245 m (7242ft) high mountain to honor the legendary footprint of Buddha. Ca. 300 000 pilgrims visit this place every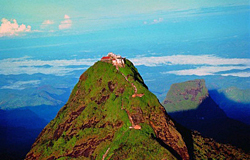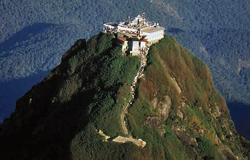 Upon your return and a refreshment, it goes back to your hotel.
Are you interested in this tour? Then write to us now and receive your individual offer!